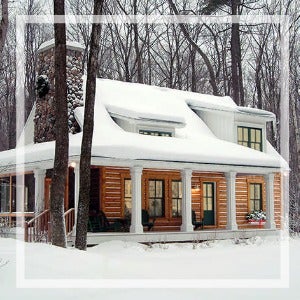 With Winter almost in full swing, now is the time to start thinking about preparing your home for the cold weather and snow.  It isn't too late to ensure your home is ready. Here are some tips to make sure your home is energy-efficient and safe this season. 

Turn off Exterior Faucets
 - Watering Season is over, and with freezing temperatures means freezing pipes. To avoid cracked hoses and burst faucets over the winter, turn off the water valves, remove hoses & drain all remaining water from the outdoor taps/faucets.
Clean your Gutters
 – With the amount of rain dispersed in the Greater Vancouver area it's a good idea to get your gutters cleaned out every year during the fall season. If you don't, clogging can lead to damage to the exterior of your home, leaks in your roof, and even into your basement.
Check your Chimney 
– Got a wood-burning fireplace?  Nothing says cozy like grabbing a blanket, hot cocoa and a good book while sitting on your couch in front of a warm, crackling fire. So make sure you get your chimney serviced annually to decrease the risk of fire from buildup or blockages.
Check your roof -
 Assess your roof for any cracks or loose shingles before the heavy rain and snow, and repair immediately to prevent leaks or other damage. Metal flashing around vents, chimneys and skylights should also be checked for cracking or rust.
Furnace & Thermostat –
 Give your heating system a full test, and if needed, consult a professional for maintenance. Having your furnace or boiler checked before it requires daily use is the best way to catch any problems before the temperature starts to get below zero. Consider turning your thermostat down during the day when you're not home, or at night when your sleeping. You save money and it gives your heating system a rest.
Block Drafts –
 As the temperature outside cools, you'll be able to catch any drafts coming from your windows and doors. Using weather stripping, window film or caulking will help control heat loss.  Reducing drafts can save you up to 30% in energy costs per year. Consider adding additional window treatments (curtains & blinds) in the living room and bedrooms to keep the warm air in.
Ceiling fans –
 If your home is fitted with a ceiling fan, check the settings for a reverse (or clockwise) option.  Running fans in the opposite direction creates an updraft, pushing down heated air which can also help reduce your energy bill.